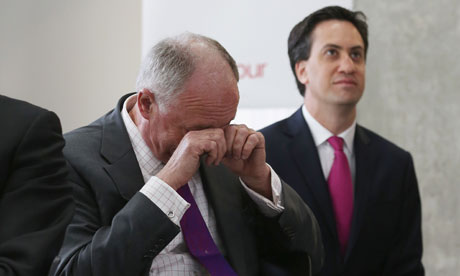 Now that The JC and wider Jewish Broiguserati has cleaned itself up after its collective trouser-soiling over Ken Livingstone's remarks on whether London Jewry was likely to vote for him, have a think about what factors play into who you vote for as London Mayor. Especially to what extent whether a candidate liking Jews more than another one is of any significance compared to actually making London a better place.
Let's recap in case you sensibly avoided the outbreak of political loshon hora. Ken Livingstone upset some Labour supporters recently by making it seem like he thought there was no point courting the Jewish vote because Jews were too rich to vote for him. We say "Making it seem like" because as the Guardian report testifies, plus Ken's own measured mea culpa also demonstrates, the remarks have been taken substantially out of context. He said lots of lovely nauseous things about Jews as well as this off-the-cuff remark to the gathered cabal of Jewish Labour luvvies, but in a mysterious act of selective hearing, they chose not to focus on that when they went running in tears to the press.
Having strangely ignored Boris' track-record of dodgy views on non-Jewish minorities, not to mention the poor, protestors, social justice, fairness, the health of children, Inner London generally, and Earth's condition as a whole, The JC leapt into action – accusing him in an editorial that had clearly been waiting in a treasured vault since the early 80s of having let his mask slip. Where he'd mentioned Israel before, he meant Jews. Where he'd smiled at Jews before, he'd been mouthing anti-semitism secretly under his breath. When he told us he loved us before, he'd meant "Muslim" not "Jew". When he'd said he wanted to lower fares and reduce inequality, he'd really meant he wanted to cleanse London of all filthy Jews. "The Mask was off" and we'd seen him for what he really was. An interesting deployment of anti-Semitic rhetoric techniques in the name of calling out anti-Semitism – the ridiculous tool for which The JC has become renowned.
Another JC correspondent went further, making the hilarious further claim that she could never vote for Labour again in any election EVER – because as well as Ken's comments, she'd noted that Jeremy Corbyn defended the rights of Palestinians sometimes. So, as one commentator under her article noted, if you're Jewish, you have to vote for Boris and the Tories because "at least you know where you are with them" – even if that place is one where cuts hitting the poorest reigns, and the rights of the global wealthy and powerful are pandered to. Hey, if it's good for the Jews, we have to go to that place. We'll know where we are there with the Tories, even if it's in hell.
Ken apologised – though arguably the other people at the meeting should probably have been the ones apologising for misrepresenting him. – and Brian Paddick did the ignoble thing of penning a spineless "I love Jews, me" piece for The JC, the digested read of which is "I met some Jews once, I spoke to some Jews once, I have never had any views either way on Jews, So Vote For Me". The JC didn't really like Ken's apology, with Martin Bright writing that the decision to "eat humble pie" was "noted" (careful, nearly praised the mask-wearing anti-Semite there, Martin) elaborating in classic 'what we say goes for all' style that "Though the Jewish community will never take him to their heart, some may at least give him credit for admitting he was wrong." However would we in this singular COMMUNITY think for ourselves without you telling us what we truly know in our heart of hearts, Mr. Bright
Meanwhile, Jonathan Freedland disappointingly peddled the same line, and it's this that's really got our goat. Jonathan F wrote that
"The meeting that night was packed with people who desperately wanted Livingstone to reassure them they could vote Labour. One explicitly said he sought no recantation of past remarks nor a change of position on Israel, just reassurance that "you won't put us through another four years of this". Even that Livingstone could not provide. Afterwards, one activist told me he felt as if he had grown up in two tribes, both intertwined in his DNA: one was the Jewish community, the other the Labour party. Yet now he was being forced to choose – because Livingstone had made it impossible to remain true to both. People will wrestle with their own dilemmas. Some will conclude that only Livingstone's policy positions on transport or housing matter. I'm afraid I've reached a different conclusion. I don't want to see Boris Johnson re-elected, but I can't vote for Ken Livingstone."
So, Freedland and those in the meeting are telling us that it is totally impossible to reconcile being Jewish with voting for Ken. Or voting for, or supporting, any candidate, party, personality, or activist that doesn't tell us how much they love Jews. Nothing else matters – as long as they kowtow to the Jewish vote, that's it, vote secured. If they won't do so, they're anti-Semitic, and dead to us. Ken has opinions that could seen as Jews dangerously not being his most favourite London minority, so he's clearly anti-Semitic, so we must clearly reject him. "Four more years of this" refers to not being treated as a special group amongst other Londoners, not being giving preferential influence over policy out of proportion to numbers, not making Ken censor his actual views for fear of offending us. What they're saying is that though you might not like that posh man Boris, he does good Goy-in-a kippah PAs in Golders Green, so you should probably vote for him.
We disagree. Here's some other things to think about – a city where the Super-Rich can run around in their own private playground without paying tax, with the most expensive urban transport system in Europe, with a chronic shortage of housing, with a Police Force who treat anyone with a black, brown or masked face as an almost-certain public threat, where a corporate locked-down sports day built on greenbelt land is being paid for by us for no local benefit, where an unacceptable number of young people have no jobs and nowhere to go, where air pollution regularly exceeds binding EU levels but where the car is king over all other methods of transport, where violent crime is rising month on month, and where any dissent is greeted with the hard end of a truncheon or shield. Compared to these things, do you actually care whether the Mayor is willing to prioritise the feelings of a section of Londoners who, let's be honest now, are generally way above the capital's average income levels as a group? Boris has made all these things worse, and however you judge Ken's personality, his record on all these issues is vastly better than Boris'
Want to vote as a Jew? Then vote with what we've been taught about justice, equality and tolerance. Vote with what's going to reduce the appalling gulf between living standards of rich and poor in London, vote with what's going to give houses, jobs and justice in the city. Vote for what will benefit all Londoners in need, not who panders to the sensitivities of those not in need. The most Jewish thing to do would be to vote for the most socially radical candidate – which is why, in the only bit we agree on with Freedland, we're also saying you shouldn't vote for Ken. Rather we say vote for Jenny Jones of the Greens – and she really doesn't pander to the Jewish vote. Vote Jenny first, and Ken second. But whatever you do, please don't vote Boris. He might say nice things about Jews, but he's a disaster for all Londoners, and it's for the benefit of all Londoners that this mythical "Jewish vote" should be directed.