BUSHEY IS UNDER OCCUPATION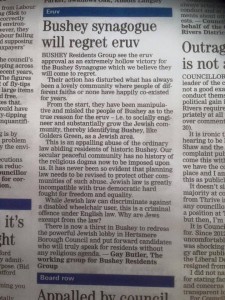 In response to recently published fears of racists from the right, the left, and the residents council about plans to build an Eruv in Bushey, Jewdas have released the following statement.
Having got in quite a bit of trouble before for being mistaken for someone else, the congregation of Geoffrey have decided to push forward with our annexation of the suburban 'village' with full disclosure. We have discussed this one before.
Our notice, soon to appear on trees, lamposts, and patisserie windows, reads as follows:

*************************************************************************************************************
DEAR GENTLE GENTILES OF BUSHEY

YOU HAVE DISCOVERED OUR PLANS, THE ERUV IS INDEED THE FIRST STEP TOWARDS FULL ANNEXATION

TL;DR DON'T WORRY WE AREN'T ZIONISTS, WE ARE COMMUNINSTS. WE WILL BE IN TOUCH SHORTLY ABOUT THE REDISTRIBUTION OF YOUR WEALTH. DON'T BE SCARED, YOU'LL LOVE IT WE PROMISE

LOVE AND SOLIDARITY, JEWDAS XXX

P.S. AN ERUV IS BASICALLY A PIECE OF STRING. CALM THE FUCK DOWN