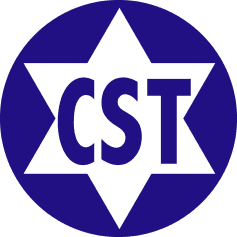 At a recent gala dinner in the West End the Community Security Trust announced exciting plans for the year ahead.  After a selection of heartfelt speeches by leading members of Parliament, which BICOM had specially written for the occasion, donors heard about the need to modernise and embrace the values of the 21st century as part of a breathtaking powerpoint presentation by Mark Gardner, widely viewed as the Steve Jobs of Jewish communal security. His powerful rhetoric caused brought an electric response from the audience during the brief periods when they weren't eating.
"We need to embrace the future" declared Gardner. "We are New Jews, New Israel. We can't be stuck in the past. We can't put our energies into every piddling complaint that Jews send to us. We're not a counselling service. Enough of bean counting every little bit of chopped troubles suffered by any random Jew, regardless of if they are a proud Jew or a supporter of Yachad. We're like a well oiled jet plane stuck on the runway. We're packed with experts, media analysts and statisticians. So why not use them properly? From now on, we'll be working exclusively on new antisemitism – hatred of the state of Israel. That way we put our funds to the best possible use, spending our money on demonstrating how things that aren't really antisemitic actually are. Old antisemitism is boring – everyone agrees on it so why bother? Leave it to the goyim in the Met. New antisemitism is sexy. Showing how John Snow criticising Netanyahu's choice of necktie when he never comments on any other leader's couture is inherently Judaeophobic. Telling MPs that backing a Palestinian state is equivalent to throwing Jews into the sea. Convincing people that Jews should be able to buy property in the West Bank as easily as they can in West Hampstead. That, my friends, is cutting edge. That is the new CST" .
"It's high time we moved beyond old antisemitism" he continued. "For far too long we've been seen as the Aldi of the Jewish World, represented by old men standing outside synagogues. But we should be the Waitrose, if not the Fortnum and Masons. We're Jet set not Easy Jet, Jaguar not Ford Escort, Bollinger not Chardonnay, Taste the Difference not EveryDay Value . I mean if some guy gets abuse shouted at him in Hull it's not really our problem –  the real question is; why is he living in Hull? Why doesn't he move to Israel? Or at least to Borehamwood?"
In a briefing to journalists following the cheese course it was announced that CST leaders were no longer willing to live amongst the British Jewish community – who they described as 'Guardianista Kapos'. The trust announced that they would be building a satellite territory  – Hendon Chadasha – just outside Radlett, modelled on Baghdad's Green Zone. Within it both the human rights act and the speed limit would be suspended and 'True Jews' would be able to live free of both BBC/Hamas propaganda and oppressive tax laws.  CST founder Gerald Ronson pointed out that any objections to the scheme would be a denial of Jewish self determination and would represent a new blood libel.